A photography career can sound like a very creative and glamorous life. But it's not the easiest field to succeed in. If you interested in learning how to become a professional photographer, read on for some enlightenment..
Do You Need A Degree To Become A Professional Photographer?

There are photography courses that can help you learn the skills you need to become a professional photographer. You don't necessarily need a degree to become a professional photographer.
No one is going to arrest you for illegally practicing photography without a license and some companies and individuals will hire you based on your portfolio rather than a degree.
Skills Are Essential
Skills and knowledge are going to vary substantially between a hobbyist and a professional and while a hobbyist might be able to get a great shot, companies looking to hire a professional photographer may want to see credentials before hiring. There are some great courses that can help you learn how to become a professional photographer, some may also help you learn to find lucrative photography work as well.
Photography courses can teach you how to take a good photo and they can also teach you technical skills that you'll need in a professional photography career. These skills are something you'll need in a higher end career.
Fact – It Is Not Easy To Break Into Professional Photography
If you want to become a professional photographer on a freelance basis and plan to work for yourself, you'll have different goals than someone looking to work for one company on a full time basis.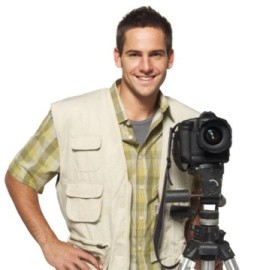 In either case, learn as much as you can, use the internet to help you develop your skills, and invest in the best camera equipment you can afford as it will be an investment in your career and yourself.
Some professional photographers start off as interns with other companies. Some work for department store portrait studios, and some intern with local professional photographers to gain experience. Gaining experience is important and creating a portfolio and a list of references is also vital in turning photography into something lucrative and rewarding.
If you want to make money as a professional photographer, learn all you can technically and create some business cards. You'll find a wealth of information available to you.
Then.. get out there and snap some great photos so you can create an impressive portfolio that will help you further your photography career.